Frans leren in Parijs - Frankrijk
Wil je Frans leren en het leven ervaren als een echte Parijzenaar? Kom mee met ons en volg cursus op onze school in Parijs! Met enkele van de meest iconische monumenten van Frankrijk, zoals de Eiffeltoren, de Arc de Triomphe en het Louvre (om er maar een paar te noemen!), zorgt deze bestemming ervoor dat jij volledig wordt ondergedompeld in de Franse geschiedenis en cultuur. Met talloze wijken die je zelf kan verkennen, elk met een ander karakter en ieder even charmant; wij kunnen jou garanderen dat jij altijd wel iets te doen hebt tijdens jouw verblijf in Parijs. Onze school organiseert dagelijks excursies naar de stad, onder begeleiding van een docent, zodat jij gebruik kunt maken van het Frans dat jij tijdens uw cursus hebt geleerd!
Onze school in Parijs
Onze school in Parijs heeft twee schoolgebouwen, beiden centraal gelegen. Het eerste gebouw is op slechts 200 meter afstand van de beroemde Notre Dame kathedraal en de Seine, en het tweede gebouw is slechts enkele minuten van de Arc de Triomphe en Champs-Elysées vandaan. Verdeeld over de twee gebouwen zijn er 19 goed uitgeruste klaslokalen waar Frans wordt onderwezen. Beide gebouwen hebben een studentenlounge met frisdrank- en snoepautomaten en gratis WiFi-toegang.
Foto's
Cursussen in Parijs
Beschikbare cursussen
Intensive (20)
Intensive + Cookery (22)
Intensive Long Term (26)
Super Intensive (26)
Private Lessons (20)
DELF/DALF Exam Prep (30)
Het Franse taalprogramma op onze school in Parijs omvat cursussen voor de duur van 1-36 weken. Kies tussen een Intensieve cursus, bestaande uit 20 lessen Frans per week, een Super-Intensieve cursus, bestaande uit 26 lessen Frans per week, of een cursus met privé-lessen, waarmee jij je taalstudie kunt aanpassen aan jouw persoonlijke wensen.
De lessen vinden plaats van maandag tot en met vrijdag, 's ochtends of 's middags, afhankelijk van jouw niveau Frans.
Onze cursussen Frans zijn gebaseerd op een communicatieve benadering en zijn gericht op het ontwikkelen van de vier belangrijkste aspecten van de Franse taal (spreken, luisteren, lezen en schrijven) en het uitbreiden van de woordenschat en grammaticale kennis. Daarnaast leer je ook een beetje over de Franse cultuur en beschaving.
Speciale cursussen in Parijs
Accommodatie
Beschikbare accommodaties
Host Family
Student Residence
University Residence
Als jij volledig ondergedompeld wilt worden in de Franse taal en cultuur, raden wij u aan om bij een van de zorgvuldig geselecteerde gastgezinnen van onze school te verblijven. Je kunt hierbij kiezen tussen bed & breakfast of halfpension, of als je liever een onafhankelijkere ervaring wilt hebben, kan je ook kiezen voor logies met alleen een kamer.
Studentenresidentie-accommodatie is ook beschikbaar voor diegenen die graag medestudenten willen ontmoeten terwijl ze van hun eigen onafhankelijkheid willen genieten.

Activiteiten
Als jij je cursus Frans in Parijs wilt combineren met culturele activiteiten, dan is deze school zeker de beste keuze voor jou!
De school organiseert namelijk regelmatig een activiteitenprogramma met bezoeken aan bezienswaardigheden in Parijs, (onder begeleiding van docenten) – naar het Montmartre, Champs Elysees, het Louvre, Sorbonne, het Quartier Latin en nog veel meer. Er zijn ook regelmatig wijn- en kaasavonden in de school, bezoeken aan de opera of theater, seminars over de Franse cultuur, gebruiken en geschiedenis, evenals dag- en weekendexcursies naar andere bestemmingen in Frankrijk (Straatsburg, Normandië, de Loirevallei en Giverny - om er maar een paar te noemen!). Daarnaast organiseert de school 2-3 keer per maand een rondleiding door de 'verborgen bars' van Parijs, wat altijd erg populair is onder studenten!
Het activiteitenprogramma van onze school is niet alleen erg interessant en leuk, maar het helpt de studenten ook om hun Franse vaardigheden buiten de klaslokalen te oefenen!
Hoe er te komen
Onze school kan tegen meerprijs transfers regelen van/naar Charles de Gaulle Airport of Orly Airport, of eender welk treinstation in Parijs.
---
Locatie van onze school in Parijs
Medewerkers van de school
4.2 / 5
Gemiddelde score voor onze school Parijs gebaseerd op 104 (Voorgaande) klantenbeoordelingen
Studentenbeoordelingen
L. Mikesova
Course in Paris was excellent! Our teacher Catherine, she was absolutely amazing, explained everything very well. I had a lot of fun in the lesson. Gathered great experiences about Paris and life in this city.
Cursus
Accommodatie
n/a
Medewerkers van de school
D. Larsen
The course was fairly interesting. I was able to learn quite a bit in the time that I was there. The mix of students from everywhere in the world was a nice learning environment, we all came together to learn a new language and meet friends.
Cursus
Accommodatie
Medewerkers van de school
S. Pischiutta
The course was very intensive and well organized. The accommodation was wonderful, not too far from the school and the family was very friendly, also the food was good.
Cursus
Accommodatie
Medewerkers van de school
A. Marx
Friendly teaching staff, interesting free tours organised. Liked the emphasis on conversationsal french and the importance of nuances/idioms rather than formal writing techniques

Cursus
Accommodatie
Medewerkers van de school
R. Gretsky
My course was excellent. I really feel I vastly improved my French language skills. It was also fun to have so many people from all over the world studying French together!
Madame Roquefeuil and her family were wonderful. They welcomed me into their home and family wholeheartedly. I was only there for two weeks, but I really enjoyed getting to know them. They also helped me find my way around and taught me about the public transportation system so I could use it "like a native".
I would definitely use your services again for further language training and cultural immersion. Thank you!
Cursus
Accommodatie
Medewerkers van de school
D. Smee
I thoroughly enjoyed the course and found all that was completed within the class-time to be effective and beneficial for my A level studies. Moreover, the school also arranged a wide-range of varying activities which I found to be good. The accomodation was good with good food and also good access to the local metro system.
Thoroughly enjoyable and beneficial experience all around - great course, great people, great mates!!
Cursus
Accommodatie
Medewerkers van de school
C. Pouravelis
The course was perfect. I loved that the professor could not speak any English, so French really was the only language that could be used. I could not have dreamed of a better accommodation.. The apartment was beautiful & the host-mother so sweet. It was a perfect fit.
Cursus
Accommodatie
Medewerkers van de school
V. Collins
The first day was a bit difficult because I was still new at the language and did not understand some of the mix-ups that morning. But after that, I grew to love it and would recommend it to anyone. Not only does it help your linguistic knowledge but builds your confidence in using it. I enjoyed every lesson, and loved every teacher and every class mate. If I get the chance I would love to do it again.
The woman who I lived with was lovely and caring, and although there were initial language barriers we managed to communicate quite well in the end. The location was great, and the building itself perfect.
Cursus
Accommodatie
Medewerkers van de school
P. Moser
Experienced teachers, patient and willing to answer questions throroughly. I was able to quickly grasp infomation as it was presented to me in a variety of ways (phonetic excercices, group activities and small presentations that I had to set up myself). On the whole a very pleasant experience.
Cursus
Accommodatie
Medewerkers van de school
J. Ritchie
The staff were all exceptionnally friendly and made me feel at ease straight away. The apartment was spacious and everything I could have hoped for. The host family were very nice and helped me as much as possible.
Cursus
Accommodatie
Medewerkers van de school
A. Dauer
The course was good, my ability definitely improved. I stayed with a host family which was great! Gave me the chance to practice what I was learning and my host family was very helpful...pointing out things that might be of interest to me, and the food was excellent.
Cursus
Accommodatie
Medewerkers van de school
Y. Zhao
The course was fantastic. The teacher was very funny and patient in explaining. The course covered all skills of a language: listening, speaking and writing. My accomodation was excellent. I lived in a house which was very well decorated. The lady I was living with was very friendly and caring. She took me to some lovely places in Paris for a visit and we even had a picnic together on a sunny afternoon. I would definitely like to visit her when I go to Paris again.
Cursus
Accommodatie
Medewerkers van de school
A. Phillips
I thoroughly enjoyed the course and thought the school was excellent. The initial induction test was very well organised, the excursions were great fun and the guides were lovely, the course material provided was very high quality and the level of teaching was superb, the teacher was very engaging.
The accommodation was brilliant - the area was beautiful and felt very safe, the other students there were adorable and the facillities were excellent - a huge room, ensuite shower and my own fridge.
Cursus
Accommodatie
Medewerkers van de school
K. Speck
The school has excellent teachers and I really enjoyed my course. I would definitely recommend this school. My daughter and I had a wonderful experience, one we hope to repeat one day.
Cursus
Accommodatie
Medewerkers van de school
L. Wood
I found the level exactly right, and was able to build on my previous knowledge. The teacher was enthusiastic and very good at communicating.
The accommodation was good, being near the centre of the city. The hostess took the trouble to talk to us in the evenings and went beyond the call of duty to entertain us - we were able to watch the Bastille Day fireworks from her balcony, with a glass of wine!
Cursus
Accommodatie
Medewerkers van de school
C. Brouwer
My teacher was really helpful, really good, and I learnt a lot. It was a welcoming atmosphere in which everyone was encouraged to participate.
I stayed in a beautiful old house, almost 200 years old, walking distance from the school. There is internet which you can use, and for breakfast there was baguette with Nutella!!
I really enjoyed meeting people in paris, and had a really good time, making the msot of it. I was just resentful that it was only one week, I didn't want to leave!
Cursus
Accommodatie
Medewerkers van de school
E. Winter
It was absolutely brilliant! I paid extra to have 1:1 lessons and my teacher was superb. She adapted the days to my needs as I wanted to improve my French for my job. She gave me the confidence I needed to apply for my French Language Test. Thank you SO much!
Cursus
Accommodatie
n/a
Medewerkers van de school
V. Brook
I was extremely pleased with the teacher and with the content of the course. I was only there for a week but it was more enjoyable and valuable than I had anticipated. Thank you very much.
The accommodation was quite close to the school and my room was more than adequate. It had it's own small bathroom which was very welcome. My host was extremely friendly and made me feel very welcome. No complaints.
Cursus
Accommodatie
Medewerkers van de school
R. Valle
Liked the teaher very much. provided plenty of opportunities for oral practice and was very clear on her explanations of grammar concepts.
My host was very friendly and an easy going lady and very good room too.
Cursus
Accommodatie
Medewerkers van de school
L. Roberts
Enjoyed the structure of the course and every teacher I encountered. Felt that progress was made.
Cursus
Accommodatie
Medewerkers van de school
K. Parker
The teacher was great, she encouraged everyone to contribute and there was a good mixture of grammar work and conversation.
The lady I stayed with was friendly and made an effort with the evening meals despite being at work herself all day!
Cursus
Accommodatie
Medewerkers van de school
B. Harris
The school was a fantastic school, with excellent teaching, friendly staff, fun, international class-groups and a good location.
Nice host family, comfortable clean room and bathroom just a few metro stops from the school.
Cursus
Accommodatie
Medewerkers van de school
S. Stinner
The course I attended in Paris was very good, all of the teacher's were very helpful and the activities were very well organised. My accommodation was perfectly situated at the 15th arrondissement in Paris. Where there was the Metro very close to where I was staying and many other types of public transportation.
Cursus
Accommodatie
Medewerkers van de school
School statistieken
Nationaliteit

Brasilian (19)
German (8)
Italian (6)
Japanese (11)
Korean (10)
Others (21)
Russian (4)
Saudi (4)
Spanish (6)
Uk (2)

* Statistieken tijdens publicatiedatum
Verhalen van studenten in onze blogs
Een dag in Paris… de manier van Parijs!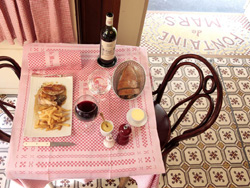 Hallo iedereen, Maria hier! Vandaag, ga ik wat schrijven over hoe een dag te spenderen in Parijs, de manier van Parijs. Dit betekent dat de bekende toeristische trekpleisters, waar geen enkele parijzenaar naar toe gaat, worden ontweken. In feite, vele parijzenaren verachten de Champs-Elysees, de Eiffel toren en het Louvre. Ze weigeren om ooit voet te zetten in een van deze plekken en sommige vinden de monumenten zelfs te opzichtig. Mijn gids bestaat uit alles, van ontbijt tot diner en uit allerlei ochtend en middag activiteiten, om zo het beste te maken van jou tijd in Parijs! De adressen en prijzen staan aan het einde van deze post.
Read more...